THE CARAVACA CROSS OF ST. JUNIPERO SERRA: This design is a Solid Bronze Wall Cross that is hand cast in the United States. It is the exact replica of the Caravaca Cross worn by St. Junipero Serra. We were commissioned to make a St. Serra collection for the Mission in Carmel, CA for the commemoration the canonization of Fr. Serra in 2015. The original cross is displayed at the Mission museum. For this project we were allowed to touch it and to photograph it in order to make an exact replica. This cross measures 5″ tall and .25″ thick.
HISTORY OF THE CARAVACA CROSS: "The Most Holy and True Cross of Caravaca is a familiar sight in the New World, brought here from Spain by the Jesuit and Franciscan missionaries. In our country, it is best known in the California Missions, made popular here by the great devotion of Frey Junípero Serra to the Caravaca Cross he kept with him always. What is its origin? Few know the history of how it miraculously appeared in Caravaca in the 13th century, carried there by two Angels, whose images appear on it today as a memorial of that marvelous episode.
In the year 1231, a miracle occurred in the southeastern Spanish town of Caravaca. A missionary priest named Don Gínes Pérez Chirinos de Cuenca was captured and taken before the Muslim prince Ceyt Abuceyt. The Muslim chief asked him many questions about the Catholic Religion and, in particular, about the Sacrifice of the Mass.
The explanation of the priest interested him so much that he asked him to celebrate the Holy Mystery in his presence. The priest agreed and sent for the necessary articles to be brought from Concha, a town in the hands of the Catholics. The necessary items arrived but a crucifix was missing.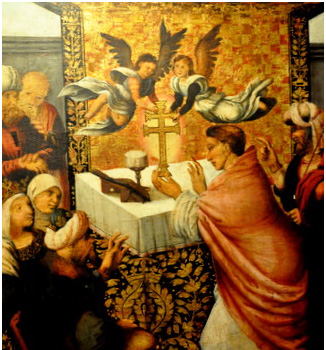 The priest prepared to begin the Mass, but then noted in dismay that the cross was missing. He told the King that the crucifix was lacking. "But is that not one?" Ceyt Abuceyt asked. The chamber became flooded with brilliant light and two Angels appeared, bearing a two-armed cross that they placed on the altar.
Later it was verified that it was the same Cross – made with the wood of the Cross of Christ – that had belonged to Patriarch Robert of Jerusalem, the first Bishop of Jerusalem after the conquest of the city by the First Crusade in 1099.
The priest gave thanks to God and started the Mass. That marvelous occurrence triumphed over the infidelity of Ceyt Abuceyt. Shortly afterwards, he together with his court converted to Catholicism. This was regarded as a great victory for the Catholic Reconquista. " https://www.traditioninaction.org/religious/h158_Caravaca.htm
"The Caravaca Cross is a powerful protection against danger & the Devil"